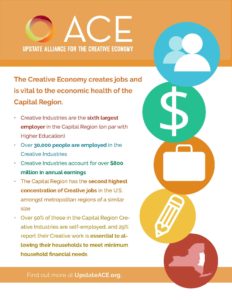 As a response to proposed federal cuts to arts and culture, here are some facts about the economic impact of Creative Industries in the greater Capital Region. (Click on the picture to the right for a downloadable version.)
Creative Industries comprises the sixth largest employment sector in the Capital Region (on par with Higher Education)
Over 30,000 people are employed in the Creative Industries
Creative Industries account for more than $800 million in annual earnings
The greater Capital Region has the second-highest concentration of creative jobs in the U.S. among metropolitan regions of a similar size
Over 50% of those in the Capital Region Creative Industries are self-employed, and 29% report their creative work is essential to allowing their households to meet minimum household financial needs
Cuts to arts and culture don't make economic sense.
Leveraging Regional Assets for A Vibrant Future:
The Upstate Alliance for a Creative Economy (ACE) presents the results of a six-month-long research study on the greater Capital Region's creative assets, and gives recommendations for leveraging those assets as economic drivers.
The following appendices contain supplemental material and more depth on the following topics (click on titles to view/download):
Measuring the Creative Economy: Detailed methodology of the economic analysis use for the study, along with additional data points and trends related to both the creative industries and the creative talent that contribute to the region's creative economy.
Creative Industry Segments: Characteristics and strengths and challenges in the five creative segments: design, media, visual arts and handcrafted products, performing arts, and heritage and preservation.
Creative Places: The importance of place-making and quality of life, as well as a brief snapshot of the feel of each of the eight counties in the region.
The Creative Talent Pipeline – K-12 and Higher Education: Details of the extensive arts education available to youth via both the school systems and through other organizations that offer out-of-school arts education directed at youth, and an overview of the wealth of creative degree programs offered by the region's higher education institutions.
Creative Convergence: The relationships other key industries have to the creative economy.
Support Systems: Businesses, Artists, and Cultural Organizations: Regional entrepreneurial and business support systems, the support systems for creative freelancers, and the support systems offered by the region's cultural organization.
Creative Freelancer Survey: Detailed aggregated survey results of the creative freelancer survey.