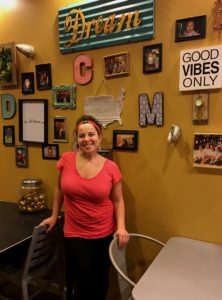 by Thomas Dimopolous
Inside the Revolution Café, a wall labeled "Dream" stands opposite a chalkboard that reads "Your Vibe Attracts Your Tribe," and a full bistro menu boasts titles like Federalist Salads, Patriot Sandwiches, and Constitution Wraps.
"I like the historical aspect of the name Revolution Cafe, because I feel everything in Schuylerville is a revolution," said Cassandra Wilusz, who went through her own personal revolution when she walked away from her process analyst job in corporate America, to open the Revolution Cafe in summer 2016.
"This business I am passionate about: making food affordable and fresh and connecting with people here, every day," she said.
The business employs three people during the winter months and eight during the summer. The space accommodates 20 patrons inside and seats nearly three times that amount outdoors, where the view overlooks the canal that adjoins the Hudson River.
Wilusz's goal is to create a creative space for all to come together: from local musicians and singers, to high school students and workers from the nearby lumber store.
"The vision is to have an Open Mic night once a week where you can hang out and listen to live music, to add microbrews and a tapas menu," Wilusz said. "I want to create a casual environment where you can come, hang out, have drinks and appetizers – and not just for a certain demographic. I want this to be for everyone."
Contact:
Revolution Café, 31 Ferry Street, Schuylerville
(518) 695-3930  //  Revolution Cafe on Facebook